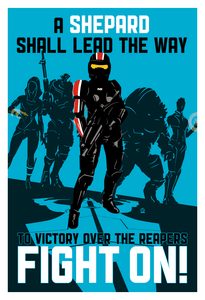 Shepard knows the way to victory over the Reaper Invasion and will lead us! A Mass Effect-inspired POPaganda poster.
The FemShep version of our popular "Fight On" giclee is available!
These 13"x19" prints are from a hand numbered limited edition of 100 pieces, gicleé printed on archival, acid/lignin free watercolor paper. The colors are vibrant and the printing is crisp.
I'll be offering these in small batches until they're gone, so if you want one, get it while it's here.
Ships rolled.