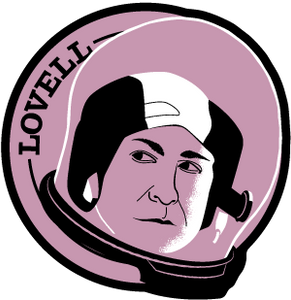 Jim Lovell, NASA command module pilot and mission commander, was the absolute package. Made famous by more than one movie and book, they guy who almost, but didn't, actually say "Houston, we have a problem" was an experienced astronaut before he led the mission that accidentally got humans as far from Earth as we've ever managed. 
Coming up during the anniversary of the Apollo 13 mission, it just made sense that Lovell be the second piece in our ongoing Astronaut of the Month series. Inspired by mid-century magazine illustrations, Dane designed these two color illustrations hoping to remind us of the excitement and fascination that overflowed when Astronauts were the world's newest heroes.
These wooden magnets are made of high quality wood and printed with bright colors to look great on your fridge. Super light and durable! We ship these in a bubble mailer for extra protection.