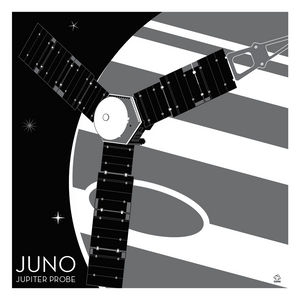 In Roman mythology, Jupiter's wife was named Juno. When Jupiter would step out on his wife with one of his mistresses, he would shroud himself with clouds to hide from prying eyes, but Juno could dispel his cloud cover. When Galileo named Jupiter and it's moons, he named the moons after all of Jupiter's mistresses in the stories. So, NASA sent Juno to peel back the clouds and take a closer look at Jupiter and it's moons. Scientists are so nerdy. I love it.
These beautiful 10"x10" giclee prints are part of our new "Science and Nature" collection! Printed with Epson ultrachrome HD inks on Epson fine art paper, each print is hand signed and numbered in an edition of 100 pieces. 
This print will ship in a bubble mailer with a cardboard insert for added stability.