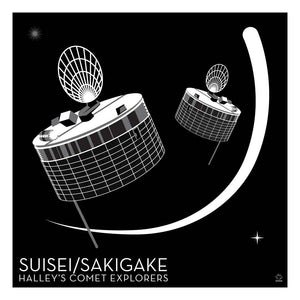 In 1986, JAXA, the Japanese space agency launched Suisei and Sakigake as part of the international "Halley's Comet Armada" to study the Halley's Comet as it made it's 1986 sojourn of the inner solar system. Both are similar in design, but carry different instrumentation, allowing for more data to be gathered.

These beautiful 10"x10" giclee prints are part of our "Beyond" collection! Printed with Epson ultrachrome HD inks on Epson fine art watercolor paper, each print is hand signed and numbered in an edition of 100. 
This will ship in a bubble mailer, with a cardboard insert for extra support.