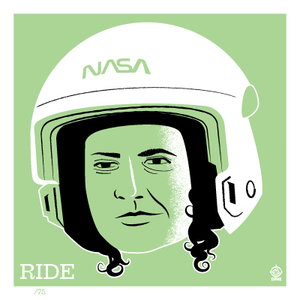 As kids in the 80s, Sally Ride was our introduction to astronauts and space travel. She was strong, smart, and had hair like Ashlie's mom. Books in the library showed pictures of what that hair, and the woman behind it, looked like in space. Articles about Ride and her fellow astronauts showed up in our Weekly Readers at school. Every one of us wanted to go to space, and because of Sally Ride, we all believed we could. 
Dr. Sally Ride was an astronaut, physicist, professor, author, and entrepreneur. She not only dedicated her life to science and science communication, but to helping the rest of us see ourselves in her world.

Inspired by mid-century magazine illustrations, Dane designed these two color illustrations hoping to remind us of the excitement and fascination that overflowed when Astronauts were the world's newest heroes. 
These limited edition prints are printed on Epson 100% cotton rag cold press watercolor paper with archival Epson Ultrachrome HD inks, so they should stay bright and beautiful for a long time.
This bright print is limited to an edition of 75 pieces, and are each hand-numbered and signed by Dane. Sized at 4x4 inches, you can frame these individually in standard 4x4 frames, mat them up to a larger square frame, or even group several together for added style. 
We ship these in a bubble mailer with an extra cardboard insert for extra stability.