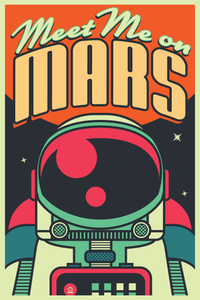 Why Mars? In the words of the inimitable Sam Seaborn: "Because it's next. Because we came out of the cave and we looked over the hill and we saw fire and we crossed the ocean and we pioneered the West and we took to the sky. The history of man is a timeline of exploration and this is what's next."
Mars is next. Meet you there.
These beautiful 12"x18" giclee prints are printed with Epson ultrachrome HD inks on Epson fine art paper, each print is hand signed and numbered in an edition of 150 pieces.