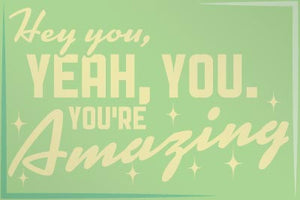 You're so amazing. You ARE. You don't need me to tell you that. But, I will.
The minions have been working overtime to make these beauties. All hand-pressed and vividly printed, these green and yellow 2x3 inch magnets are perfect for a fridge, filing cabinet, or any magnetic surface. 
They make great "anytime" gifts. Because why *wouldn't* you want to remind the amazing people around you just how great they are? Or just get it for yourself. Because you deserve it.
Shipped in a bubble mailer.
.