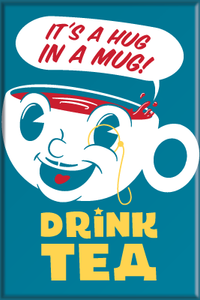 Cuppa the Teacup says "Tea is a Hug in A Mug!" And he's right!
The minions have been working overtime to make these beauties. All hand-pressed and vividly printed, these orange and yellow 2x3 inch magnets are perfect for a fridge, filing cabinet, or any magnetic surface. 
By itself or with the rest of the magnets in this series, this makes a great "anytime" gifts. Or just get it for yourself. Because you deserve it.
Shipped in a bubble mailer.